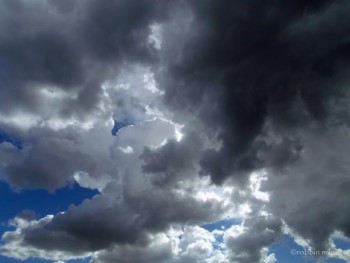 Clear skies umbrella'd the horizon for days, with a
Little breeze to break the monotony. No sunnier
Or balmier time existed in recent memory, and a
Utopian view of the world was not uncommon. I
Doubt if many saw the first wisps of cloud in
Bloom, flowering quickly and blossoming darkly as
Urgently they filled an aerial reservoir with moist
Rain-specks and blotted out the sun until no
Soul could mistake the pending fury, nor
Take a chance on finding shelter from the storm.
So of course the rain ran itself out, a basic
Urgent squall, that washed the earth and all
Not-sheltered when the fury broke so
Suddenly. Then it was over. It was a
Hasty act, and certainly, a faster
Impersonation of contriteness has
Never been seen as the black
Envelope of clouds withdrew from the sky.
John B. Moss
14 October 1991