Category: Announcements [A]
February 6th, 2010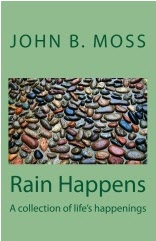 A collection of life's happenings. Brought to you in hard copy, available now through the publisher Miscelpage, also at Amazon.com, and soon to be available at bookstores everywhere.
I enjoyed writing these poems and I am confident you will enjoy reading
them. Place this book in your library; you will be coming back to read these poems again and again. Please share your thoughts and impressions now, and after you're read the book. After all, in order for grass to grow, rain has to happen.
September 17th, 2009
theOnlineWriter is a poetry site. Blogging is a recent experiment in providing a media outlet so that anyone's muse can be freed. As the Editor, and the site Administrator, and being someone who enjoys writing, this is plainly an easy way to gain self-expression.
The point of this site is to provide exposure for other writers. It is hoped that this invitation will be accepted and others who wish to contribute will do so.
Comments are comments, in response to a daily blog (poem?). Submissions are made through the Online Writer - Submissions. Here are the guidelines. This blog provides the potential for self-expression.
Payment? Pride of authorship is all that is offered, and perhaps this is not enough, but feeding the muse requires use of a different coin. The Online Writer welcomes all who share this sentiment.
August 6th, 2009
There always has to be the first time - the first chicken from the first egg, the first air flight by man using mechanical devices... and this is the first blog in this commentary.
It serves, initially, as a simple place-holder. That's all - yet the transition from zero to one is an immense leap in reality. Ta-da!