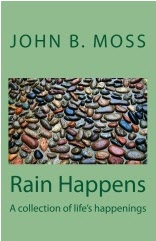 A collection of life's happenings. Brought to you in hard copy, available now through the publisher Miscelpage, also at Amazon.com, and soon to be available at bookstores everywhere.
I enjoyed writing these poems and I am confident you will enjoy reading
them. Place this book in your library; you will be coming back to read these poems again and again. Please share your thoughts and impressions now, and after you're read the book. After all, in order for grass to grow, rain has to happen.